Seeking New Board Members
We are looking for Board Members that believe in our mission and are willing to be active in their governance roles. We are open to candidates of all abilities but prefer individuals that identify as living with a disability. Bring your passion for the arts and help us continue to grow and make all of the arts more accessible to all Canadians.
Contact: Yuri Arajs / 604-343- 9141 / kickstartdirector@gmail.com
Staff
Yuri Arajs, Artistic Director
YuriArajs.com
Yuri joined the staff as Artistic Director in October 2015. His original connection to Kickstart was in 2001 when he presented at the 1st Kickstart International Disability Arts and Culture Festival in Vancouver. Yuri has worked with and represented artists who live with disabilities for more than two decades. Having founded numerous art non-profit organizations and galleries, Yuri has worked with and shown the artwork of hundreds of artists who live with disabilities, from the USA, Canada, and internationally. Yuri has an MFA from Cranbrook Academy of Art (USA), a BFA from Kean University (USA), and an Associates Degree in graphic design from Middlesex College (USA).
Kait Blake, Administrative Assistant
She is thrilled to be a part of such an amazing organization, as she is extremely passionate about inclusion and supporting everyone to live a happy and fulfilling life. While she is not an artist per se, she has been a lover and supporter of the arts since early childhood. Much of her youth was devoted to participation in every theatre endeavor available to her, whether it be performing, working backstage or attending productions. When she wasn't doing that she was performing original plays for her family, friends & stuffed animals, creating artistic "masterpieces" (and messes), singing in choirs (or anywhere she was allowed to sing) and writing short stories & angsty teen poetry. These days she is an avid paper crafter, novice seamstress, an enthusiastic dog & cat mom and is a lover of all things food related & enjoys cooking for her family & friends. Kait lives with severe depression & anxiety and is vehement about breaking down the stigma associated with mental illness. While her educational & career background was mostly tourism, she shifted into non-profit & mental health fields. In addition to her role at Kickstart,  she is a Peer Support Worker for the Youth Team at Gastown Vocational Services.
Board of Directors
Wendy D, President
WendyD.com
Wendy D, professional photographer, capturing moments in life, who we are, what we do and showing it to the world through the visual image. She loves what she does, she helps people tell the story of themselves, their business, their event, their project, their passion. For Wendy, its a collaboration between photographer, her subject and her lens… always.
Some of her clients include CBC Vancouver, CBC Radio-Canada Vancouver, BCIT, Sauder School of Business at UBC, Vision Vancouver. Josh Berson Photography, Bentley photographics, Scott McAlpine photograph, SFU, The Cultch, Women in Film and Television Vancouver, Association of Professional Engineers and Geoscientist BC, City of Mission, City of Vancouver, Home Depot, Meinharts, Ki Communications.
Cathy Browne, Vice President
I'm a lifestyle, travel, and events photographer who just happens to be legally blind. I use my unique perspective and camera to capture and share things I actually can't see.
And I'm good. Take a look!
I'm also a veteran PR gal and accessibility advocate. I believe in the power of community, and I take great pleasure bringing people together. I love the West Coast and call Vancouver BC home.
I love everything Apple, being with family and friends, writing, photo-walking, travel, food and wine, hot sake, politics, my cats, CBC Radio, trivia and hugs.
Ellexis Boyle, Secretary
Ellexis is a professional pastry cook by trade and currently works as a pastry instructor at North West Culinary Academy of Vancouver. Ellexis also holds a Master of Arts in Women and Gender Studies and a Ph.D. in Sociology (Kinesiology) both from the University of British Columbia. She is passionate about contributing to the social equality of all people and animals and is delighted to have the opportunity to contribute to Kickstart by serving as the secretary of the Board. Ellexis can be found baking, gardening, and foraging in the woods with her Chihuahua!
Kim Almond, Member at Large
Community Support Worker, Artist.
I am a visual artist. I studied Studio Art at Capilano University and Emily Carr University of Art And Design. I have worked as a community support worker for many years. I teach art classes for the Developmental Disabilities Association and organize community art shows.
Kate Collie, Member at Large
KateCollie.com
MFA MA PhD – visual artist, registered psychologist, registered art therapist.
Each time I've been forced by circumstances to change how I make art, I've moved into new artistic territory. I've been taken to places I had wished to go, but didn't know were available to me. Disability has fueled my art in this way and has led me into interesting artistic collaborations.
Inspired by the first Kickstart festival, I've been developing assisted art-making methods to use in my own art studio and in my art therapy practice. For decades I have been working to make Arts & Health services available to as many people as possible, especially people experiencing medical illness or disability. I helped develop a Canada-wide program of online art therapy groups for people with cancer.
Bernadine Fox, Member at Large
Bernadine Fox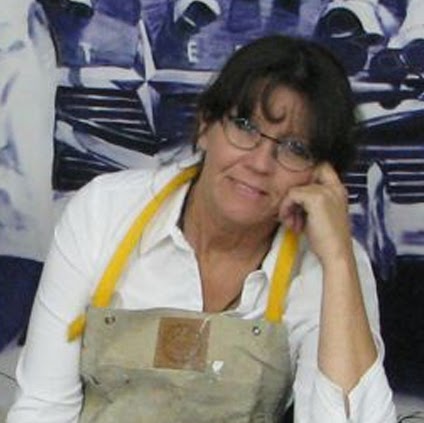 Bernadine Fox is a Culturist: as a social activist, she uses her art and writing as a means of speaking out on social issues most specifically those close to her own life. Widely known in the local art community, she paints in oils and assembles mixed media art and exhibits her work in a wide variety of venues. She worked as a professional support worker with those who had developed Dissociative Identity Disorder and who lived throughout the world. As she makes art, writes stories, and speak outs – she also raises her grandson, struggles with a love of mixing metaphors, and lives in a forest with three cats, three friendly rats, the odd bear or cougar, and a few ghosts.
Advisory Board Members
Lissette Guajardo
Personal Trainer / Inner Peace Fitness.
Athena Cooper
Email Marketing Specialist.
Emma Kivisild
Artist / Writer.